Child Care
The Child Care Unit determines eligibility for publically- funded child care for low income parents and parents receiving OWF cash assistance. This allows parents to work, obtain training, or attend school while being assured that their children are cared for in a safe, quality environment. Families choose whether to use licensed day care centers or in-home providers, and all parents have a required co-payment to assist with the cost of care. Eligibility is redetermined annually. However, verifications may be requested at anytime when household circumstances change.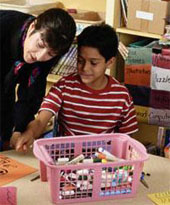 Child Care Provider Staff at LCDJFS certify the child care provider homes. Home inspections are made, background checks are done, references are gathered...just to mention a few of the tasks of a Provider Worker. Providers are required to attend initial and continued training in order to maintain their certification.
An average of about 1,600 families are served each month in the Child Care Unit along with about 175 in-home providers, and approximately 85 day care centers.