Latest News & Updates from LCDJFS
SNAP Scam Alerts: EBT Card Skimming and Phishing Scams
"While card skimming and phishing scams can impact anyone who uses a credit, debit or EBT card, they may hit SNAP households—who rely on their monthly benefits to buy food for themselves and their families—the hardest. What these thieves are doing is deplorable, and FNS will not tolerate it in our programs. We are working with our state and federal partners to protect your SNAP benefits." —Cindy Long, Administrator of the USDA Food and Nutrition Service
SNAP EBT Card Skimming Scam Alert
USDA recently received several reports of SNAP fraud in which thieves use "card skimming" to steal SNAP benefits. Thieves place a device on a retailer's card-swiping machine to copy EBT card information. Card skimming can happen to anyone that uses a credit, debit or EBT card, including SNAP participants.
USDA encourages SNAP participants to take actions that may help prevent card skimming. For example:
Keep your PIN secret.

Do not share your PIN with anyone outside your household. Cover the keypad when you enter your PIN on a machine.

Check your EBT account regularly for unauthorized charges.

If you notice any, change your PIN immediately to stop the thief from making any new purchases.

Check card reading machines

to make sure there's nothing suspicious overlayed or attached to the card swiper or keypad. The overlays can be difficult to detect but are often bigger than the original machine and may hide parts of the machine.
If you believe you are the victim of card skimming and SNAP benefits were stolen from your EBT card, contact your local SNAP office.
SNAP Phishing Scam Alert
USDA is aware of several reports of criminals using phony text messages to obtain EBT card numbers and PINs and steal SNAP benefits. These are known as phishing scams and are a type of fraud. Do not provide your EBT card number or PIN by phone or text. If you think you are the victim of a phishing scam, please contact your local SNAP office.
---
"Mientras que el phishing y las estafas por robo electrónico de tarjetas pueden afectar a cualquier persona que utilice una tarjeta de crédito, débito o EBT, pueden afectar más a los hogares del Programa de Asistencia Nutricional Suplementaria (conocido como SNAP por sus siglas en inglés). Los participantes de SNAP dependen de sus beneficios mensuales para comprar alimentos para ellos y sus familias. Lo que estos ladrones están haciendo—robando a aquellos en necesidad—es deplorable, y el Servicio de Alimentos y Nutrición (conocido como FNS por sus siglas en inglés) no lo tolerará en nuestros programas. Estamos trabajando con nuestros socios estatales y federales para proteger sus beneficios de SNAP." - Cindy Long, Administradora del Servicio de Alimentos y Nutrición del USDA
Alerta de estafa de robo electrónico de tarjetas SNAP EBT
El Departamento de Agricultura de los Estados Unidos (conocido como USDA por sus siglas en inglés) recibió recientemente varios informes de fraude de SNAP en los que los ladrones usan "robo electrónico de tarjetas" (conocido como "card skimming" en inglés) para robar los beneficios de SNAP. Los ladrones colocan un dispositivo en la máquina de deslizamiento de tarjetas de un minorista para copiar la información de la tarjeta EBT. El robo electrónico de tarjetas puede sucederle a cualquier persona que use una tarjeta de crédito, débito o EBT, incluyendo a los participantes del Programa de Asistencia Nutricional Suplementaria (conocido como SNAP por sus siglas en inglés).
El USDA aconseja a los participantes de SNAP a tomar acciones que pueden ayudar a prevenir el robo electrónico de tarjetas. Por ejemplo:
Mantenga su PIN en secreto.

No comparta su PIN con nadie fuera de su hogar. Cubra el teclado cuando ingrese su PIN en una máquina.

Revise su cuenta EBT regularmente para ver si hay cargos no autorizados.

Si usted nota alguno, cambie su PIN inmediatamente para impedir que el ladrón haga nuevas compras.

Revise las máquinas de lectura de tarjetas

para asegurarse de que no hay nada sospechoso superpuesto o conectado al teclado o al dispositivo deslizante de la tarjeta. Las superposiciones pueden ser difíciles de detectar, pero a menudo son más grandes que la máquina original y pueden ocultar partes de la máquina.
Si cree que es víctima de robo de tarjetas y los beneficios de SNAP fueron robados de su tarjeta EBT, comuníquese con su oficina local de SNAP.
Alerta de estafa de phishing de SNAP
El Departamento de Agricultura de los Estados Unidos (conocido como USDA por sus siglas en inglés) es consciente de que los delincuentes están utilizando mensajes de texto falsos para obtener números de tarjetas EBT y PIN, y robar los beneficios del Programa de Asistencia Nutricional Suplementaria (conocido como SNAP por sus siglas en inglés). Estos se conocen como estafas de phishing. No proporcione su número de tarjeta EBT o PIN por teléfono o mensaje de texto. Si cree que es víctima de una estafa de phishing, comuníquese con su oficina local de SNAP.
:
Self Service Portal Updates
The Self Service Portal to apply and check on eligibility for SNAP/TANF/Medicaid/Childcare assistance, has undergone a major upgrade. New features include the following:
1. The Portal is now mobile device friendly.
2. Users can provide verifications by uploading a photo of the
document.
3. Enhanced password reset functionality.
If a Portal user sees distorted screens after logging in, please have the user clear their browser cache and log back in. Users can typically clear their cache in the browser settings area of their chosen web browser. The Ohio Benefits Help Desk can be reached at (866) 846-4528 if a portal user encounters any issues.
SNAP/TANF Interviews
During the Federal Public Health Emergency all in-person interviews have been waived and are being conducted by telephone. If a special circumstance requires accomodations, please contact us for a scheduled appointment at 1-844-640-6446.
_____________________________________________________________________________________________________________________________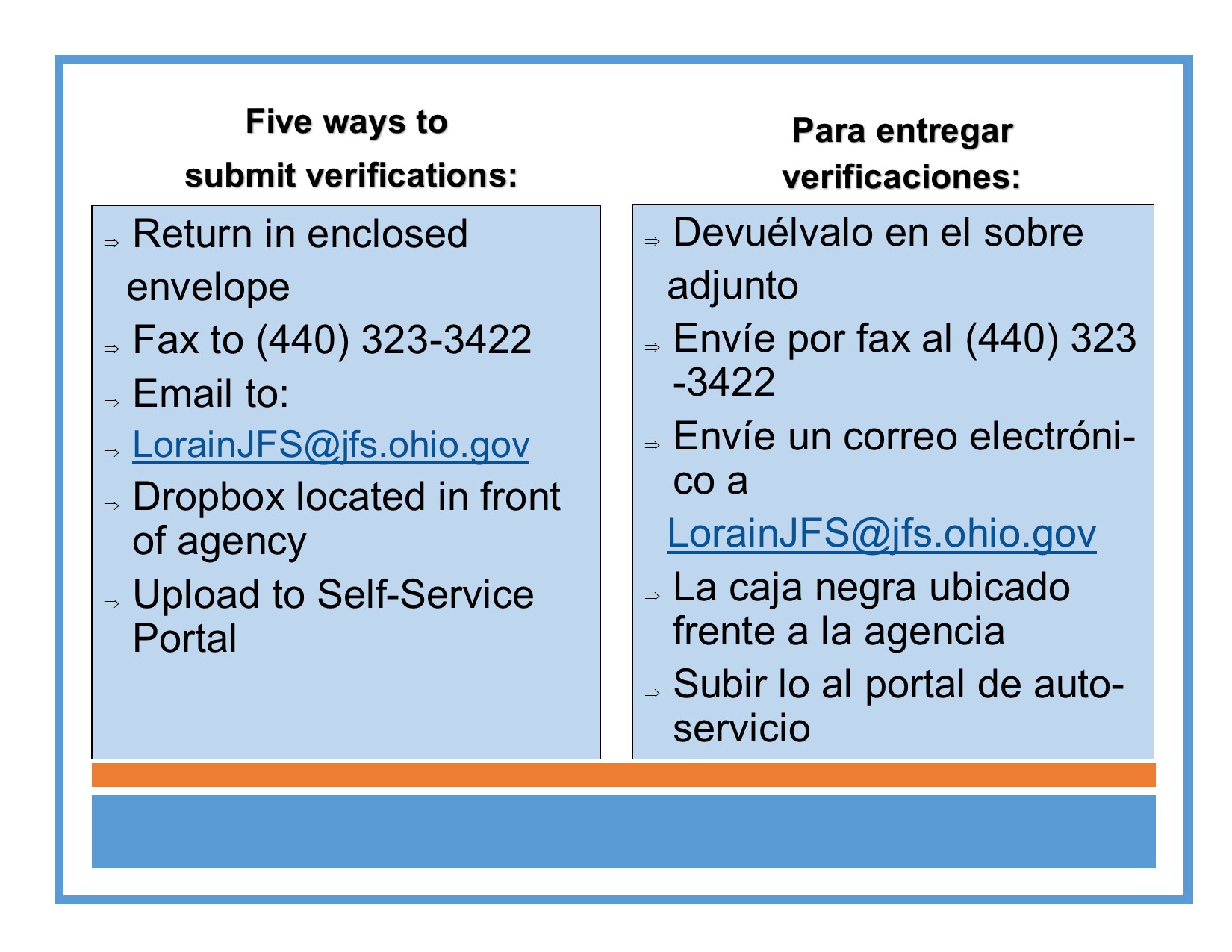 Shop Simple with MyPlate
Scan the QR code below or click here to find savings in your area and discover new ways to prepare budget-friendly foods.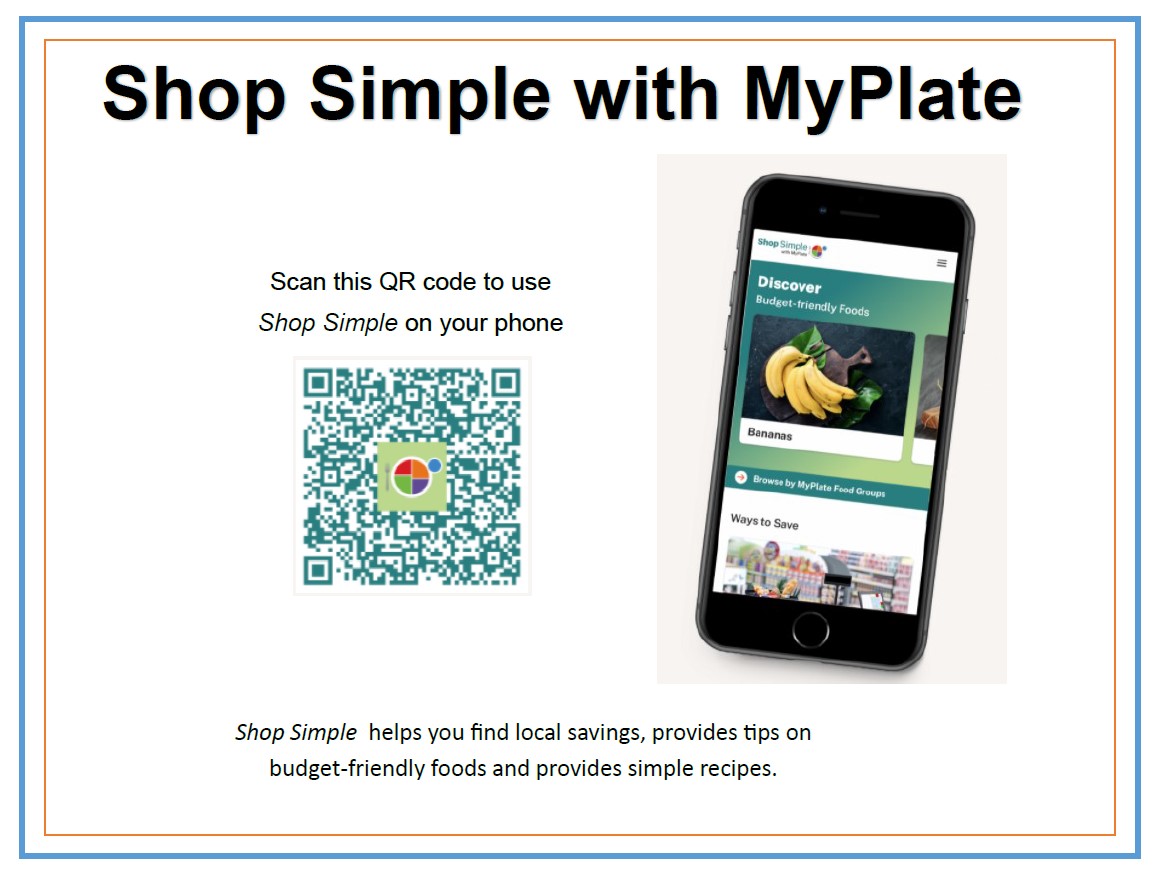 Emergency Rental Assistance Program (ERA)
The Emergency Rental Assistance Program is currently accepting applications for help with rent and utility bills. Visit this link

Lorain County Community Action Agency (lccaa.net) to apply.
For a list of eligibility and verification requirements, please visit this link

Rent Assistance (lcdjfs.com).
Effective Friday, March 5, 2021 -- PHONE applications for SNAP/TANF and Medicaid on Fridays will only be taken from 8:00 am - 12:00 pm (noon).
After 12pm on Fridays, applications can be filed online at benefits.ohio.gov or submitted via fax/mail. Applications can be found

here

.
Ohio Medicaid COVID-19 Testing and Vaccination
Transportation Support
PRC Program
Ohio's Prevention, Retention, and Contingency program provides work supports and other services to help low-income parents overcome immediate barriers to employment. It is funded through the federal Temporary Assistance for Needy Families (TANF) program. Those receiving assistance from other public assistance programs - including Supplemental Nutrition Assistance Program (SNAP, formerly known as food stamps) - also may be eligible for PRC service.
PRC services vary between counties based on community needs. Each county has a PRC plan stating the types of services available in that county and the eligibility criteria for them. Applications are currently being taken for the following services:
Vehicle Repairs
Past Due Utilities
Stove/Refrigerator
Beds (Need based on emergent, crisis situation or natural disaster - Referral required from community agency - e.g. LCCS, Genesis House, Red Cross, Health Dept)
Employment related expenses
GED incentive payments
School Fees
Delinquent Mortgage
Delinquent Property Taxes
Applications can be obtained from the forms section on our website or by calling 1-844-640-6446 and can be submitted via mail, fax, email, or in the drop box in front of our building.
---
Access Our Services
FROM HOME
Access Our Website at
lcdjfs.com
This is the easiest way to find out information for Child Support, Public Assistance and Adult Protective Service programs.
Documents for SNAP/TANF/Medicaid can be placed in agency drop box, which is located OUTSIDE the main lobby doors facing the parking lot.
Clients can submit payments at Ohio CSPC, PO Box 182372, Columbus, OH 43218 or at
https://oh.smartchildsupport.com
or placed in the drop box outside the CSEA lobby doors.
CSEA can be reached at 440-284-4401 or 1-800-808-2991
Public Assistance Programs
The above link allows you to apply, renew, or make changes for cash, food or medical assistance. You can also call 1-844-640-6446 to apply, renew, or make changes for medical assistance. Documents can be dropped off, uploaded to your Ohio Benefits account, or emailed to:
Michael.Schmittgen

@jfs.ohio.gov
. For case questions, please call 1-844-640-6446.
Adult Protective Services
Adult Protective Services staff will remain accessible during normal business hours, Monday-Friday, 8:00 a.m. to 4:30 p.m. and will continue to provide emergent coverage. Phone 440-284-4465 to report abuse, neglect or exploitation of senior citizens.
---
Potential SNAP Phishing Email Scam
Attention current SNAP participants:
The Office of Family Assistance has been made aware of a potential phishing email scam related to the SNAP program.
Please disregard any emails you receive that appear similar to the ones pictured here or appear suspicious to you.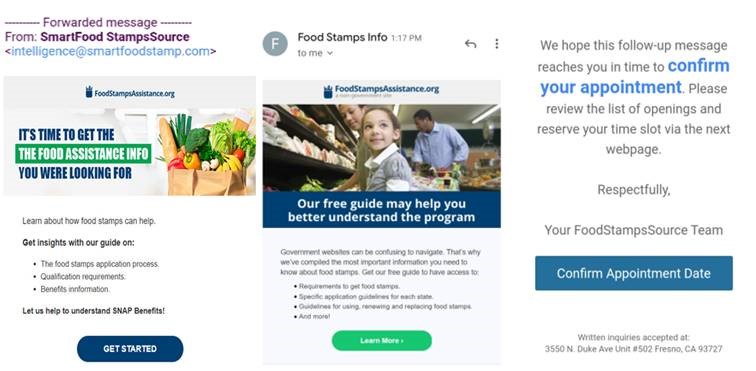 ---
SNAP-ED helpful inforamtion link
---
Two New Drop boxes installed
Both boxes are available 24/7 for verification drop off.
1) Job & Family Services entrance to the main lobby facing the parking lot for easier access. Please use this box when dropping off SNAP/TANF and Medicaid verifications (dark grey)
2) Child Support Enforcement Agency by the lobby door. Please use this box for All CSEA related documents. (light grey)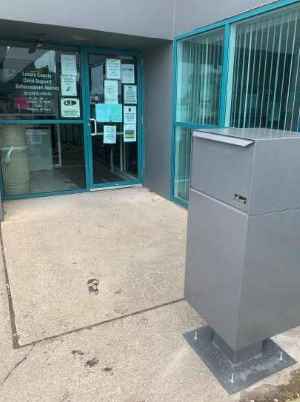 ---
FRAUD ALERT: USDA Warns of Text Message Scam Targeting SNAP Recipients

WASHINGTON, September 10, 2020 – USDA issued the following notice today to protect SNAP participants, after receiving reports of several possible SNAP Fraud attempts:
Be aware of a scam using texting to obtain your personal information. The text might say you were chosen to receive food stamps or SNAP. If you do not know if a request for information about SNAP is real or not, contact your local SNAP office.
Never share personal information with individuals or organizations that you do not know. Personal information includes your social security number, bank information, or SNAP electronic benefits transfer card or PIN number.
If you think the text is a scam, do not reply at all. Just delete.
If SNAP participants are unsure if a request for information is legitimate, USDA advises they contact their local SNAP office.  If they do not know their local SNAP office, participants should contact their state agency. State contact information is available at https://www.fns.usda.gov/snap/state-directory.
To stay on top of potential scams, please visit USDA's SNAP scam alert webpage at https://www.fns.usda.gov/snap/scam-alerts.
If you believe you are the victim of identity theft, contact your local police department regarding procedures for filing a report.  You may also file a consumer complaint online with the Federal Trade Commission (FTC) at https://www.ftc.gov.  FTC is the federal agency responsible for protecting consumers from identity theft scams.
USDA's Food and Nutrition Service (FNS) administers 15 nutrition assistance programs that leverage American's agricultural abundance to ensure children and low-income individuals and families have nutritious food to eat. FNS also co-develops the Dietary Guidelines for Americans, which provide science-based nutrition recommendations and serve as the cornerstone of federal nutrition policy.
SNAP Online Food Purchasing Now Available in Ohio
Ohioans who are eligible for the Supplemental Nutrition Assistance Program (SNAP) can now use their Ohio Direction cards to purchase food online through Walmart and Amazon, the Ohio Department of Job and Family Services (ODJFS) announced today.
"We know many Ohioans are struggling and that food purchasing has been a challenge for many, especially older Ohioans and those with limited access to transportation," said ODJFS Director Kimberly Hall. "We hope online purchasing gives individuals more options and makes it easier for them to both stay safe and eat nutritiously."
Previously, Ohio SNAP recipients could order groceries online at Giant Eagle, Walmart and some Kroger stores, but they had to pay inside the stores or at curbside. After receiving federal approval, ODJFS successfully tested online purchasing with Walmart and Amazon. While Ohio SNAP recipients can order food online from a variety of retailers, only Walmart and Amazon allow online purchasing with EBT cards. Individuals may choose to have groceries delivered, but federal rules still prohibit using SNAP benefits to pay for any delivery charges.
Individuals may qualify for SNAP if their household's gross monthly income is at or under 130% of the federal poverty guidelines. Ohioans can apply at benefits.ohio.gov. Benefits can be used to buy most food products, with the exception of alcoholic beverages, vitamins and/or medicines, and hot food made to be eaten immediately, including prepared food from grocery stores and restaurants.
ODJFS has provided additional assistance to SNAP recipients during the pandemic:
Began issuing Pandemic EBT benefits for children who normally receive free or reduced price meals at school.

Issued supplemental SNAP payments to qualifying households in March, April and May and is preparing to issue them again in June.

Waived administrative verifications normally required at food banks, to streamline the process and limit person-to-person contact.

Extended SNAP recertification periods for March, April, May and June by six months.
New resource available for SNAP recipients
Grocery stores and other retailers can offer online "click and collect" grocery shopping and curbside pickup for families in the Supplemental Nutrition Assistance Program (SNAP), the Ohio Department of Job and Family Services (ODJFS) learned this week. Families also can place orders over the phone.
If grocery stores have wireless mobile point-of-sale (POS) devices, they can swipe recipients' EBT cards at curbside. If they do not have mobile POS devices, recipients still can order food in advance and go into the store to pay and pick up their groceries. Retailers also have the option to process manual vouchers at curbside. Grocers cannot accept the EBT card number over the phone.
Benefits can be used to buy most food products, with the exception of alcoholic beverages, vitamins and/or medicines, and hot food made to be eaten immediately, including prepared food from grocery stores and restaurants.
---
Coronavirus Pandemic Child Care Information for Families
Families needing to use a child care provider for their essential job during this State of Emergency, can use the link to search for providers that are able to accept children. There is a list for centers and home providers. The list is in County alphabetical order, and are updated daily by the State. Also on the site is a list of the essential jobs that will be given priority for using the child care. We suggest calling the provider first to see if there are openings and any other questions you might have. http://jfs.ohio.gov/cdc/CoronavirusAndChildcareForFamilies/
CSEA Lobby closure and document drop off
The LCDJFS main lobby and Child Support lobby are closed due to the Pandemic and State of Emergency. Any documents needed to be dropped off for the CSEA can be put into the drop box located outside of the CSEA main lobby door (light grey box), Monday-Friday, 7:30am-4:30pm.
---
Lobby Hours/Horario de recepcion
Until further notice our lobbies will be closed. Please access our website on the internet for agency business.
Hasta nuevo aviso nuestros recepciones estan cerradas. Favor de accesar a nuestro sitio web de internet para negocios de agencia.
---
SNAP, TANF, and/or Medicaid Benefits Terminated Scam
(03/11/2020)--LCDJFS has recently been notified of a scam where clients are receiving fraudulent calls which are falsely identifying that their benefits are ending and requesting personally identifiable information such as their Social Security Number.
These calls are not generated by the state of Ohio or any of its agencies. If you receive a call like this you are encouraged to report them to the State of Ohio Attorney General's Office at 1-80-282-0515 or https://ohioprotects.org .
SNAP, TANF, and/or Medicaid Overpayment Scam
(02/25/2020) -- LCDJFS has recently become aware of a current scam where clients receive a phone call from an unlisted/restricted phone number stating you must make a payment towards your overpaid JFS benefits otherwise the agency will take you to court. This is a scam. If the agency has determined you have received benefits that you should not have, you will be notified by mail which includes how to make payments. Our agency does not accept any online or over-the-phone payments- only cash, check, or money order payments. Cash payments must be made in person at our agency whereas check and money order payments can be made in person or mailed to our agency. If an investigator from our agency has determined you have an overpayment and they call you, his or her number would be listed on caller-ID and they will identify themselves appropriately. Their phone call would not include making you complete a payment over the phone. If you are ever in doubt of a phone call regarding an overpayment, you may call our agency switchboard at 440-323-5726 or 440-244-4150 and our operator will connect you with one of our workers.
Phone Number Correction for Reapplication Interviews
Effective Tuesday, October 1, 2019, you must call 1-844-640-6446 to complete your reapplication interview. Appointment letters were mailed with the incorrect phone number on the packet. Please make sure to call 1-844-640-6446 during your assigned appointment time to complete your reapplication interview for SNAP, TANF and Medicaid. We apologize for the inconvenience. Please see below to follow the correct prompts to ensure your call is routed to the correct area.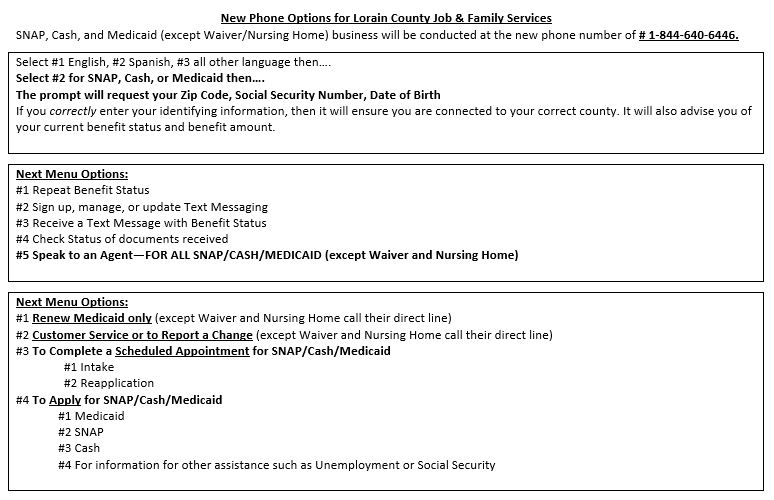 Upcoming Changes to Ohio's Support Program
Starting on July 1, 2019, the Ohio e-QuickPay Debit Mastercard will be discontinued, and a new card will take its place: the SmiONE payment card.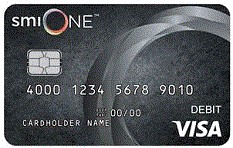 For a smooth transition, make sure your Child Support Enforcement Agency (CSEA) has your correct address on file. Keep your e-QuickPay card until you spend down the balance. The balance will NOT transfer and can still be used after July 1, 2019.
State Hearings SHARE
Portal
The Bureau of State Hearings has redesigned and deployed the SHARE (State Hearings Access to Records Electronically) Portal. Clients are able to log in to the SHARE site using their Ohio Benefits Self-Service Portal login and password. The Portal will provide access for appellants and authorized representatives to review state hearing records, request a hearing, upload a document, request a reschedule, or withdraw a hearing. To access the Portal, please click here. To watch a video on how to use the Portal, please click here.
Self-Scanning Kiosk
A self-scanning kiosk is now located in the LCDJFS main lobby for clients to scan and submit their own documents without having to take a number and wait for a front desk staff member. Clients also have the option to use the self-scanning kiosk located at LCCC on the first floor near the library. Any Child Care, SNAP, TANF, and/or Medicaid recipient with an active case can skip the wait and scan any documents they need to turn in by using the new kiosk. Individuals will need to know the Social Security Number and Date of Birth for one of the active recipients on the case. LCDJFS has staff available to assist clients when using the kiosk, however it is very user friendly. After scanning all documents, the kiosk will print a receipt with the date and time, as well as how many documents were scanned.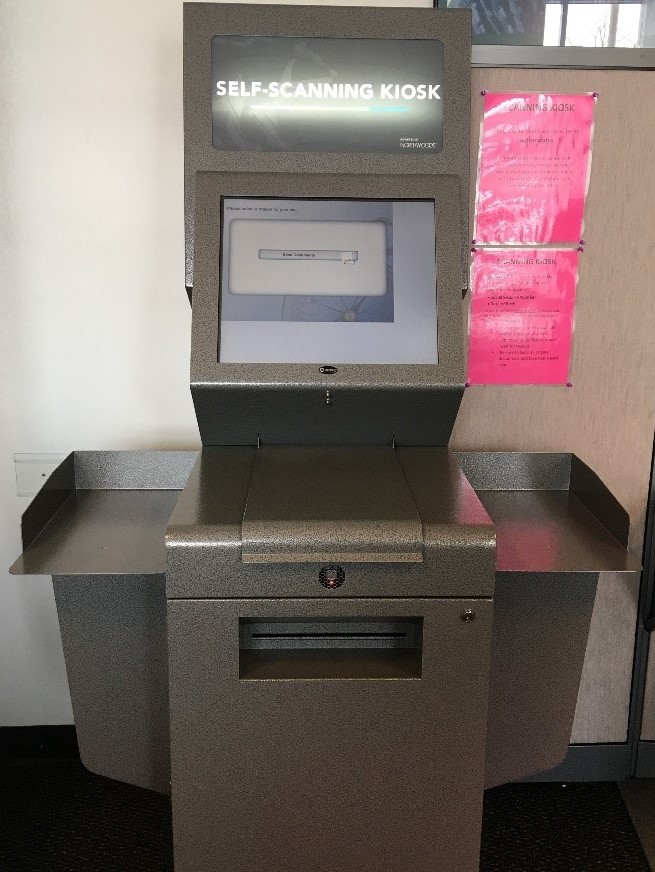 LCCAA HEAP Updates
Utility help through LCCAA HEAP. New satellite offices are being opened up throughout Lorain County. Check the following link for locations, dates, and times: https://www.lccaa.net/news?view=270
EBT
Card Issuance
If you have had an EBT card in the past, you will not receive a new one when new benefits are authorized. You will need to call for a replacement if you no longer have the card. For the Ohio Direction card hotline for SNAP benefits, call 1-866-386-3071. For the Ohio EPPICard hotline for Cash Assistance benefits, call 1-866-320-8822.
It's Tax Time!!!
If you worked in 2019, you may be eligible for the Earned Income Tax Credit -even if you don't owe income tax. You also may qualify for free assistance with the preparation and filing of your income tax return through the Lorain County Free Tax Prep Coalition, a Volunteer Income Tax Assistance program. Ohio Means Jobs is one of this year's tax preparation sites. Appointments can be made by calling 2-1-1.
Online Voter Registration
Ohio residents are now able to register to vote online! The Secretary of State's Online Voter Registration (OLVR) system allows an applicant to securely and efficiently submit a voter registration application online to the Secretary of State's Office. In order to use OLVR, an applicant must have a valid Ohio driver's license or state identification card. The following information will be requested to complete the online voter registration and must match the applicant's BMV information:
Applicant's name
Address
Date of Birth
Last four digits of applicant's Social Security number
Ohio driver's license or state identification number
Consent for the Ohio Secretary of State's Office to obtain applicant's signature
Simply click on this link to register.
Dolly Parton's Imagination
Library
The Stocker Foundation presents Dolly Parton's Imagination Library. This program is a 60 volume set of books beginning with the children's classic The Little Engine That Could. Each month a new book will be mailed in your child's name at no cost to the family. See the attached

flyer

for more information. Flyer also available in

Spanish

.
Interim Reports
Interim reports can be completed online!
Submitting required forms online is the best way to provide documents to LCJFS
It's more convenient for you, and it cuts down on lobby traffic
Click here to access your case online and submit your interim report
Case Profile Printouts
The front desk can no longer provide case profile printouts for WIC, HEAP, Community Action, and/or Section-8/LMHA.
In order to obtain a case profile, you must set up online access to your account by following the directions below. There are computers and printers in the LCDJFS lobby where you may print your case profile free of charge during our normal business hours (Monday- Friday: 7:45am - 4:00pm). An agency staff member is usually available to assist with this process on Monday, Tuesday, Thursday, and Friday between the hours of 8:00am - 8:30am and 2:00pm - 3:00 pm.
set up online access to your case at https://odjfsbenefits.ohio.gov/SelfServiceSplash.jsf.
On the "Home" screen, select the "Review Benefits" tab. Print this page. It shows your current and future benefit issuance history.
On the "Review Benefits" screen, select "Click Here For History" for each individual benefit to get up to 12 months of benefit issuance history.
Return to the "Home' screen and select the "Review Case Information" tab. This page lists the people on your case, their dates of birth, and the benefits your household receives. Print this page.
On the "Report a Change" tab, indicate whether or not you would like to register to vote and submit your answer. Then, select the appropriate computer option from the drop-down box and hit the submit button. This takes you to a "Case Summary" page. Print this page.
2022 Holidays / Agency Closed Dates
Martin Luther King Jr. Day

January 17
Presidents' Day
February 21
Memorial Day
May 30
Juneteenth observed
June 20
Independence Day
July 4
Labor Day
September 5
Columbus Day
October 10
Veterans Day
November 11
Thanksgiving
November 24 & 25

Christmas Eve and Christmas observed

New Year's Eve

December 23 & 26

December 30