Online Applications
Online Benefits Tool
The State of Ohio Benefit Tool is a new internet tool that allows Ohioans to:
Submit an application for SNAP, cash assistance, and Medicaid online
Check the status of the application submitted
Report changes to your case information
Complete and submit a Reapplication or Interim Report form
View benefit history (One year of history of cash and/or SNAP assistance benefit type/month for inpiduals in household, and amounts issued and date available - can be used for WIC, LMHA case profiles)
View Cash or SNAP Assistance balances
Check notices mailed to you for your case
Enroll in a Medicaid Managed Care Plan
To access the site, click either of these links: http://odjfsbenefits.ohio.gov/ or you can go to www.jfs.ohio.gov, then click on Apply for Benefits under the Cash Assistance, SNAP Assistance, or Medicaid tabs. Either will lead you here:
Am I Eligible? – When you make this selection, you will be taken to the Supplemental Nutrition Assistance Program (SNAP) Pre-Screening Eligibility Tool. You can use the Pre-Screening Tool to determine whether you may be eligible to receive SNAP assistance. This tool is not an application for benefits.
Apply for Benefits – Make this selection if you would like to apply for cash assistance, SNAP assistance, and/or Medicaid
Application Status – This selection will allow you to check the status of your online application after it has been submitted. It will show a status of pending, approved or denied. A 30-day countdown timer will also display if the application is pending. Only applications submitted online are available.
My Case – To make changes to your case information, complete and submit a Reapplication or Interim Report form, or view your case information, select My Case.
After you make your selection for Apply for Benefits or My Case, first-time Users will need to create a User account. Otherwise, enter your User ID and password on the log-in page.
Select the link that says "If you do not have an Account, Click Here." Enter registration details on the New Account Registration screen. (An email account is needed. If you don't have one, there are several choices on this screen to use to create an email account.) After you click 'Submit', an email with an activation link is sent to your email account. You must click on that link within 96 hours (4 days) to activate your account. If you do not, the account registration will be canceled and you will need to begin again.
Create an email account (if you don't have one already), then set up an Online Benefit Application account with a User ID and password.
After you log in, enter your case number, social security or recipient number, and date of birth on the screen. (If you are an authorized representative for another person, enter the information for that person.)
If you do not have a computer with internet access at your home, we have computer stations located in our Front Lobby for clients to use, to obtain their own printouts.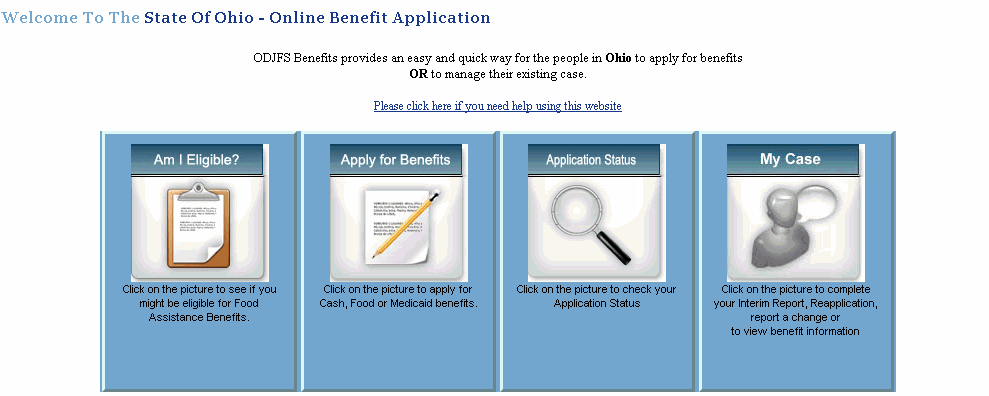 In addition to your Cash, SNAP and Medical benefits, the Child Support Enforcement Agency now also has the Child Support Customer Service Web Portal. Clients can view collection amounts, allocation (current or arrears), disbursements to family or others, and fees paid. Clients may also obtain a two-year printout. Access is granted to clients by providing their e-mail address. Please click here to be directed to the CSEA portal, or go to the Child Support section of this site.